Bill Bin Hire makes skip hire Melbourne Western Suburbs easy. With a range of sizes and options for both residential and commercial bin hire, we've got all the bins you need to make clean-up simple. Hire a bin for your next construction, renovation or clean-up project. See the difference professional bin hire can make.
If you're not sure what bin you'll need, talk to our friendly team for advice on skip hire Melbourne western suburbs. We'll help you find the perfect bin for your project. Book a bin using our Booking System, and get started today.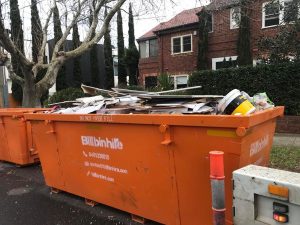 We have a range of skip bins for hire, from 2m3 to 12m3. Each one of our bins goes through rigorous testing, and undergoes regular maintenance to check for cracks, breaks and defects. You can be sure you're getting a well-made, safe to use bin that you can rely on to get the job done.
If you're not sure what size bin you'll need, we always recommend getting one size larger than what you think you'll need. That way, if you end up making more waste than estimated you don't have to waste time or money getting a second skip hire Melbourne Western Suburbs to clear the rest of your waste.
What Can You Use A Skip Bin For?
Our skip bins are fantastic for many uses. Hire a skip bin for your next project:
Garden and House Clean
Construction Sites
Renovations
Spring Cleaning
House Party Clean-up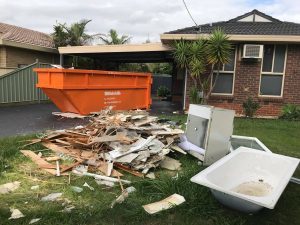 What Can't I Use A Skip Bin For?
We can deal with all kinds of general waste, but there are a number of waste items that can't be put into a skip bin for safety and legal reasons. These items include:
Fridges and Freezers
Televisions and other Screens
Bio-waste (body fluids, animal waste etc.)
Petrol, gas and other fluids
Asbestos
Batteries
Paints and resins
As we process a lot of waste, we believe it's our responsibility to deal with it in the best way possible. We aim to recycle and reuse a majority of what we take in. Many people don't realise that a lot of waste, including wood, metals, plastic and concrete, can be reused in other construction. We look to reduce the amount of waste that goes into landfill and instead turn it into something useful.
Skip Hire Melbourne Western Suburbs
If you're looking for professional skip hire services in Melbourne's Western Suburbs, call Bill Bin Hire today. We can get a bin to your door in just days, and clear it away for you fast. We even take care of all the paperwork for you. We also provide services in Essendon, Footscray, Yarraville, Laverton, Newport, Caroline Springs and many other southern suburbs within melbourne. All you have to do is fill it up! Contact us today to get started.