If you are looking for skip bins Hawkesbury, then Bill Bin Hire is your go-to for hiring bins. No matter how big or small your project is, we have a bin that is the perfect size. Our team can deliver bins of various sizes to your location on the same day you place the order. We provides skip bin hire services in Eltham, Campbellfield and many other northern suburbs  within melbourne. You can keep our bins for a maximum of three days, but if you need it for more time just let us know at the time of booking the bin. Our bins come in sizes ranging from 2m3 to 12m3, are quite sturdy and hence can handle the roughest of waste materials.
Often, people are unsure of the bin size they need for their projects. However, this should not be a matter of worry for you. Just give us a call and our experts can help you in selecting the right bin size. We will ask a few questions to determine which size will suit your needs the best. Our services extend to construction sites as well which is why we make sure that we have different sizes to provide to our customers. Our bins can accommodate things such as furniture, concrete slabs, and green waste.
Skip Bins That Are Environment-Friendly
Protecting our environment and our planet is our responsibility. Fortunately, our job allows us to make a little contribution to protecting Earth. We believe in reusing or recycling most of the things that you put in our bins. Metals, plastic, wood, old clothes and a lot more, are the things that can be recycled. Once we pick up the bin from your location, the waste material is sorted out and all recyclable material is sent to a special facility. At the facility, the items are either restored or used to make new things. This means that most of the waste you collect actually turns into something useful for someone else; it doesn't all go into the landfills.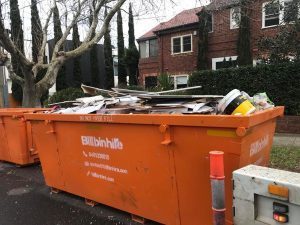 From Construction Sites to Homes
Bill Bin Hire provides skip bins Hawkesbury to residential, commercial and industrial properties. We deliver bins to construction sites as well. Some of our bins are large enough to accommodate large and coarse materials found at construction sites. Moreover, all our bins have brackets on the sides that make it easier to be picked up and moved from one point to another. Furthermore, we also ensure that our bins are always in perfect condition; our team does regular inspections of all the bins to ensure there are no breaks or cracks in them. Additionally, if you are looking to place our bins on public property such as roads or footpaths, you will need a permit to do so. You can get a permit from your local council yourself or just call us and tell us you need a permit. Our experts will just need the location in order to contact the local council of that area and get a permit for you.
The skip bins we provide in Hawkesbury are sturdy enough to accommodate any material. However, there are always certain prohibitions on what you can and cannot put in the skip bins. Asbestos, biological waste, electrical appliances, and other such materials are considered hazardous. These materials need to be treated in a special treatment facility before being completely disposed of. You will have to get in touch with your local council and they can help you with the disposal of said materials. If you don't know what materials are considered hazardous and dangerous, simply take a look at our waste types page for a complete list.
Looking for the finest skip hire services around your home? Bill Bin Hire can get a bin delivered to you in a matter of hours. You get same-day delivery and get the option of early pickup services as well. There is nothing better than having a bin big enough to get rid of all that junk in your home or commercial space after some renovation work. Furthermore, we make sure that you are always aware of our whereabouts by keeping in touch with you and providing you with an ETA. Just give us a call on 04 01 33 60 10 .