Skip hire Dandenong is your local bin hire services that can get a quality bin delivered to you quickly and efficiently. Whatever the project, we can definitely provide a bin that is perfect for your needs. You will never face any problems with our services, we guarantee that you will get the best skip hire services. We have been in the business for a long time and understand the importance of your time which is why we are always on time. Our drivers always have your contact details in order to inform you of any delays. Just give us a call today!
Different Sizes Of Skip Bins In Dandenong
From residential to commercial sites, we have bins for every project you take up. Our bin sizes range from 2m3 to 12m3 and can accommodate most materials. We make sure that our bins are always well maintained and are regularly checked for breaks and cracks. You can hire a skip bin in Dandenong for a maximum of three days, and if you need to get a bin for longer just inform us when booking your skip bin. Our bins also have brackets on the sides that make it easier to move around. This comes in handy at construction sites, where our bins can be moved with the help of cranes. Furthermore, if you are unsure of which size bin you need, just give us a call and our team can provide professional advice.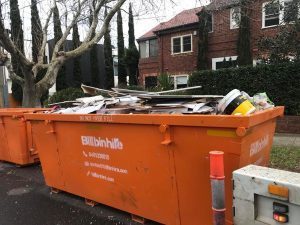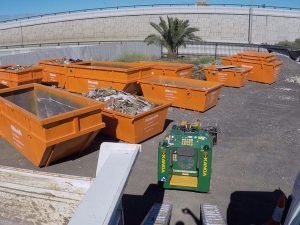 What Happens To The Waste?
The waste collected in our bins is sorted out by our team at our main headquarters. From there all the material that can be reused or recycled is sent off to a special facility. Metals, furniture, plastic, old clothes, and green waste, can all be recycled. This is our little contribution to protecting our planet and allowing these recycled materials to be put to good use. Sustainable and eco-friendly practices are very important to us and by recycling these materials we avoid throwing away useful things in the landfill.
Permits are required if you plan on placing one of our bins on public property. Nature strips, roads, and footpaths are all considered public property. In order to get a permit, you have to get in touch with your local council and get a permit from them. Instead of making a trip down to your local council just give us a call and we will get the permit for you. You just need to let us know the exact location where the bin will be placed. This will allow us to track down the local council in the area, and one of our drivers will just get the permit along with the bin you ordered.
What Can I Put In A Skip Bin?
Hazardous material such as biological waste, asbestos, paints, and many other materials cannot be put in our bins. In fact, these materials are prohibited from being put in the bins. The reason is that these particular items need to be treated in a special treatment facility before being disposed of. Just contact your local council to know how and where you can get rid of these materials.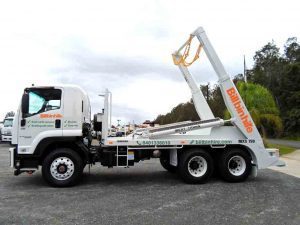 Contact Us For A Skip Hire Dandenong Today!
Bill Bin Hire has been in the business long enough to understand the importance of your time. This is why we ensure that our customers have the contact details of the driver delivering your bin, so you're updated on the ETA. We are a team of dedicated workers and strive to provide you the finest skip hire services in Melbourne. Our bins are quite tough and can handle most materials without any strain. We also provide service in Armadale, Moorabbin and many other Southern Suburbs within Melbourne. If you have more questions about our services, send us an email on contact@billbinhire.com.au and we'll get back to you ASAP.