Getting a skip hire Greensborough is not a very hard task with the services provided by Bill Bin Hire. You can place an order for a bin and get it delivered on the same day. We provides services in Coburg,  Campbellfield and many other northern suburbs within melbourne. Just give us a call and receive a bin that is perfect for your needs. Whether it is a residential, commercial or industrial property, our bins are the best solution for any of your waste disposal issues. We don't just deliver the bin to you, we will also pick up the bin from your location after three days. Furthermore, our experts can also help you select the right size bin for your requirements. We always recommend a size larger than you actually need. It is better to get a larger bin which is a much cheaper option than getting a second one.
We are very particular about our bins and make sure that they are in perfect condition. Our bins are built to last for years and can withstand very heavy material and the roughest of waste. Our bin size ranges from 2m3 to 12m3, so we do have bins for a project of any scale. Our bins are fully maintained and serviced. Making sure that our bins are clean and don't have any breaks or cracks in them is of highest priority to us. We believe in providing quality products to all our customers. Additionally, our bins come with clamps that are useful as it allows the bins to be picked up with the help of cranes or dolly trucks. Our bins fit perfectly well in a construction site and can easily accommodate material such as wood, metal and concrete.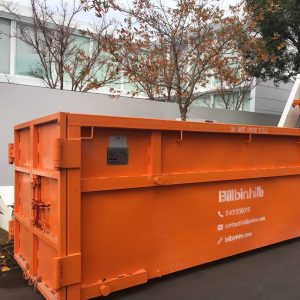 What Can You Use A Skip Bin For?
Getting skip hire Greensborough can have a lot of advantages, especially if you are in the midst of a major project. You can use our bins for:
Garden and House Clean-up
Construction Site
Renovations
Spring Cleaning
House Parties
Along with this, you ca be sure of the fact that all the waste you put into our bins is being used for something good. Most of the things that are put in our bins can be either reused or recycled. So, we pick up the waste collected and take it to a special facility where everything is either restored or recycled into a new item. It is our responsibility towards the environment to take a step towards reducing our carbon footprint.
Things To Know About Our Bins
There are certain items and materials that are prohibited from being put into our bins. In fact, it is considered illegal to dispose certain hazardous materials without them undergoing a special treatment in a facility. Asbestos, paints, diesel, electronics, need to be treated before they can be thrown in a bin. We do not allow any of these materials and more to be directly thrown into our bins. You can also checkout the full list of materials that are prohibited from being put into our bins on the waste types page. Additionally, if you get a skip hire in Greensborough and need it placed on public property, you will need apermit. Footpaths, roads, nature strip, etc., are all considered public property. However, you don't have to worry about a thing. Our team at Bill Bin Hire can get a permit for you; all we need is the location where you'll be placing the bin so that we can contact the local council in the area.
Professional Skip Hire Greensborough
Renovations, green waste removal or a construction site, Bill Bin Hire has a bin for every project. You can get skip hire of any size in Greensborough. Just give our team of experts a call and we will be there on the same day delivering your bin. Keep in mind, you can keep our bins for a maximum of three days. If you need the bin for more than three days, then inform the technicians when you are making the booking. Meanwhile, you also have the option of getting in touch with our team for an early pickup of the hired bin. Give us a call or send us an email, and we will ensure that your bin reaches you in time.