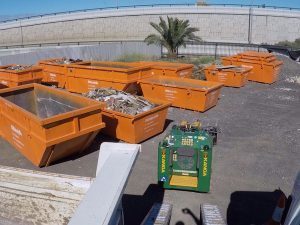 Throwing away garbage has never been more easier than with skip hire Eltham. Bill Bin Hire is known for providing the finest bin hire services. We can deliver bins of a huge variety and in varying sizes. Ranging from 2m3 to 12m3, our bins are tough enough to handle most materials. Whatever your project maybe, whether it is a springtime cleaning or renovation work, we have bin for all your needs.
Our experts can provide professional advice on the kind of bin you might be looking for based on the information you give us. We'll know the size of bin you need if you are renovating or clearing out your garden. Our bins can handle very heavy items as well, so if you are throwing away a big couch, rest assured that our bins can take it. You can hire a bin for a maximum of three days, if you need for longer let us know at the time of booking. On the other hand, if you need an early pickup service, just call us and let us know.
Skip Hire – Environmental Friendly
We try our level best to contribute to the environment. The garbage that you throw away can be easily reused for a different purpose. A special facility allows us to reuse and recycle the material that we can salvage from the bins hired by you. It is our responsibility to take care of our environment in any way possible and recycling is our small contribution. Metals, plastic, furniture, concrete and old clothes, are all the things that get recycled. Instead of throwing it all in the landfill, we can easily reuse the material.
Our Services Are Available To All
We provide bins to the residential, commercial and industrial properties. From suburban homes to major construction sites, we provide skip hire in Eltham with bins of all sizes. Our bins come with brackets that allows them to be moved and picked up by cranes, which is perfect for construction sites. The wide variety of sizes that we provide is enough to accommodate quite a lot of waste material. So, you don't have to worry about the bin not being big enough. Along with this, we can also get you permits if you need to place the bin on a public property. Roads and footpaths are considered and placing a bin on these areas requires a permit from your local council. Instead of waiting for your turn at your local council, you can just relax in your home while we get the permit for you. Just let us know the location you're at so we know which council to contact.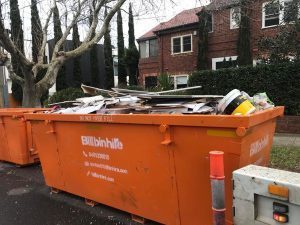 What Can't I Put In A Skip Bin?
Our bins are meant to accommodate just about any material. However, there are certain things that we prohibit from putting in our bins. Hazardous material such as biological waste, paints, asbestos and more needs to be treated in special waste treatment facility. These materials need to be treated to avoid any harm to the environment. If you want to know how to get rid of hazardous material, you should contact your local council. Your local council can help you with the disposal of any hazardous material. There is a list of hazardous material that we don't allow for our skip hire Eltham, visit our waste types page.
Skip Hire Eltham – Affordable Bins
Bill Bin Hire provides excellent skip hire services in Burnswick, Greensborough and many other northern suburbs within Melbourne. We drop off as well as pick up the bins you have rented. Our delivery people are experienced drivers and can get to your location as quickly as possible. You are provided with the driver's phone number so that you can keep in touch and have an ETA with you. Just call us for your next project and our experts can provide you with any information you need. Book a bin using our Booking System.