Bill Bin Hire makes skip bin hire easy. Get a bin to your property for your next project and clear out your waste quick. Simply find the perfect sized bin, give us a call or book online and we'll deliver the bin to you as soon as possible. Whether you're working on your own property or undertaking a large construction job, we've got the right bin for your needs. Once you're finished, just give our team a call and we'll take care of your waste for you. For skip bin hire Footscray, give us a call today to get started.
Choosing the right skin bin for a job can be a difficult task if you don't have experience. Order one that's too small and you won't be able to fit your rubbish in. Too large and you've wasted money buying a bin that's too big. If you aren't sure what size to get, we find it's always better to get a size up from what you think you'll need. This way you avoid wasting space, and won't have to order a second bin if you miscalculate. Alternatively, give our bin experts a call and we'll help you find the best sized bin for your needs. Save your money and time with Bill Bin Hire.
Our skip bins are built to handle just about anything you throw at them. We check them regularly for quality and ensure there's no defects or breaks that could be unsafe. Our bin hire Footscray perfect for moving around the job site with hooks for added utility. With a wide range of sizes starting at 2m3, you can choose the bin size you want, and place it right where you need it




Affordable Skip Bins And Quality Workmanship
Skip bins are fantastic for all kinds of clean up and renovation work. Many of our customers in Footscray have used our bins for things such as:
Construction site clean-up
Renovations
Spring cleaning
House parties
Garden and house clean-up
Hard rubbish removal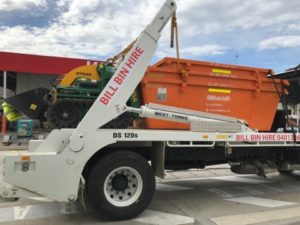 All waste we collect is sorted at our facilities and recycled as much as possible, with the excess going to landfill. We aim to recycle as much as possible to reduce the impact of waste on the environment, with much of our waste being re-used in other construction projects or broken down into base materials.
While our bins are tough, there are a number of things that can't be disposed of in them. Hazardous materials such as asbestos, bio-waste, chemicals and other fluids can't be processed for safety reasons, and must be disposed of through proper channels. Other things we can't dispose of include fridges, freezers, TV's, monitors, paints, solvents and batteries. If you need to dispose of any of these things, call your local council for information on the proper disposal channels. For a full list of prohibited items, click here.
If you're going to be using your skip bin on public land, such as a road, footpath or nature strip, you'll need a permit. Hire a bin with us and we'll organise a permit for you with your hire. If you're looking for bin hire Footscray, simply let our bin hire team know where you'll be using your hire bin and if you'll need a permit.
Professional Skip Bin Hire Footscray
Get bin hire wherever you are in Melbourne. We provide our services in Sunshine, Sunbury, Hoppers Crossing, Caroline Springs and many other western suburbs within melbourne, not just in Footscray. Book a bin using our Booking System and find the bin that's right for your needs. Alternatively, you can send us an email and we'll get back to you as soon as possible.