Hire a skip bin for your next project and get cleaned up fast. Skip bins make waste management easy, and with our great bin hire services you can get cleaned up quickly. They're the perfect choice for renovations, building projects or hard rubbish removal. Get a skip bin delivered when you need it and get working sooner. We'll even clear it for you after you've filled it, and sort your waste for recycling. With fantastic services and competitive pricing, call Bill Bin Skip Hire Hoppers Crossing and get started today.
Do skip bin hire the right way. Choose from our range of bins online and find the one that suits your needs. With sizes from 2m3 to 12m3 there are sizes for every kind of project. Our skip bins can take many kinds of waste, including construction rubble, hard rubbish, green waste, soil and more. Our standard hire lasts three days, but this time can be extended if needed. From there, our bin hire experts will be around asap to collect your bin and clean it up, taking the waste to our collection facility where we sort, recycle and reuse as much of your waste as possible.
Things You Can't Put In A Skip Bin
There are several materials that can't be put into our skip bins, due to legal and safety reasons. If you have any of these items, talk to your local council for information on the proper disposal channels for your area.
Fridges and Freezers
Televisions and other Screens
Bio-waste (body fluids, animal waste etc.)
Petrol, gas and other fluids
Asbestos
Batteries
Paints and resins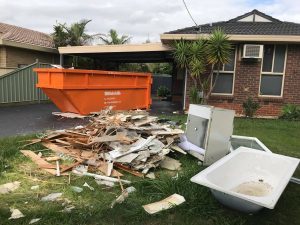 Residential And Commercial Skip Hire
Our bins are checked for breaks and cracks and maintained regularly to maximise safety. They're ready for any challenge and are great for renovation, building and general clean-up on both residential and commercial projects. With hooks and clamps, moving them around the work site is easy, and makes clean up simple and safe. So, whether it is a residential or commercial property get skip hire Hoppers Crossing!
Skip Bin Hire Placement Permits
When it comes to skip bin hire most city councils in Victoria, including Hoppers Crossing, require a permit for skip bins placed on public land, such as roads, paths and nature strips. Bill Bin Hire can organise a permit for you and include it with your hire. Simply let our team know where you'll be using your bin and we'll include it with your hire. When it comes to skip hire Hoppers Crossing, Bill Bin Hire makes it easy.
Best Skip Hire Hoppers Crossing
For a fantastic bin hire service, look no further than Bill Bin Hire Hoppers Crossing. Hire a bin today and get access to fantastic service, competitive prices and a bin hire company that cares. We'll help you find the perfect bin for the job every time. We also provide services in Sunshine, Yarraville, Newport, Werribee and many other western suburbs within Melbourne. Book a bin using our Booking System, or send us an email and we'll get back to you ASAP.