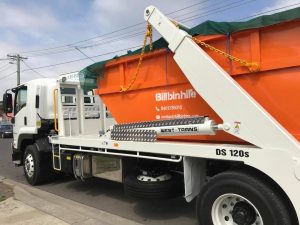 Choose Bill Skip Bin Hire Caroline Springs for all your bin hire needs. With extensive experience in the industry, we have the expertise to deliver a fantastic service and help you keep your work site clean. Choose from several different sizes of bins, ranging from 2m3 to 12m3, and get things cleaned up fast. We deliver your skip bin, collect, and sort your waste for recycling. Get professional skip bin hire services and a free quote today. Book now!
We have a wide range of bins, fitted with hooks for easy moves. All our skip bins are regularly checked for cracks and defects to maintain quality and safety on the work-site.
If you're not sure what size skip bin you need, we recommend you estimate how much waste you'll be disposing of, and get a size larger than what you think you'll need. It's easier and cheaper to get a bin slightly larger than what you need, than to have to order a second bin later.
Collecting Waste for A Greener Earth
All the waste we collect is processed at our collection facility, where we reuse and recycle as much of it as possible. We take and use materials such as green waste, cardboard, plastics, concrete and brick. We aim to send as little to landfill as possible. Many people don't realise that most waste products can be reused in one way or another. Plastic can be melted down to be used for roads, park benches and similar, and concrete can be crushed down and reused in other construction projects.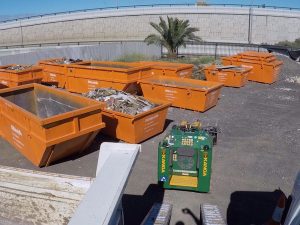 What Can't I Put In A Skip Bin?
There are several materials and objects you can't put our skip bins, due to legal and safety reasons. These include:
Fridges and Freezers
Televisions and other Screens
Bio-waste (body fluids, animal waste etc.)
Petrol, gas and other fluids
Asbestos
Batteries
Paints and resins
It is against the law to dispose of many of these objects in a skip bin, as they cannot be recycled, and are hazardous to landfill and to the people working with them. If you've got any of these materials and you need to dispose of them, call your local council for information on the proper disposal channels for your area. For everything else call our skip bin hire Caroline Springs!
Do You Need a Skip Bin Permit?
In most suburbs, you'll need a permit if you're planning on placing your skip bin on public land such as a road or nature strip. At Bill Bin Hire, we can organise a permit for you with your hire. Simply ask our team when you hire, and let us know where you're planning on using the bin. We'll organise it for you, helping you get up and running as fast as possible. Let us make skip bin hire Caroline Springs easy for you.
Call For Skip Bin Hire Caroline Springs Today!
If you're looking to hire a skip bin in Caroline Springs, call the team at Bill Bin Hire today. We're here to help you get started with skip bin hire, and make your next project clean up easy. With fantastic service and competitive prices, you'll find exactly what you need with Bill. We also provide service in Essendon, Keilor, Sunshine, Werribee and many other western suburbs within Melbourne. Book a bin using our Booking System, or send us an email and we'll get back to you asap with a free quote.