Next time you need skip bins Werribee, fast, call the team at Bill Bin Hire. With a large range of bins, we can help you find the perfect one for your project. Whether you're renovating your home, building a new one or doing some serious spring cleaning, a skip bin can help you clean up fast. Call today for a free quote, and let our skip bin experts help you find the perfect sized bin for your needs. We aim to make hiring skip bins Werribee as easy as possible, delivering when you need it and clearing away when you're finished. All you have to worry about it cleaning it up! Go to our Booking System for a free quote.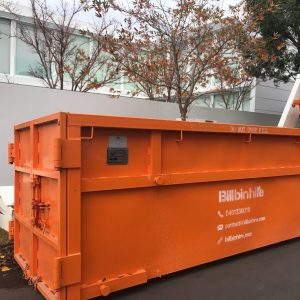 Choosing the Right Bin Size!
If you're looking to get a skip bin, but you're not sure which size you'll need, talk to our bin hire experts. Choosing a bin that's too small for what you need can end up just being a waste of time and money. If you've got more waste than you can fit, you'll need to hire more skip bins Werribee, which will cost you more and make the whole process so much slower. We recommend you estimate the size you'll need and get a size larger. Alternatively, talk to our experts with your estimate in m3 and we'll help you find the bin that's right for you.
Our bins are checked regularly for defects, cracks and breaks to ensure you get a bin that's safe for use and going to provide the best possible experience. We pride ourselves on our service and work hard to provide you with a quality skip bin that's going to stand up to whatever task you need it for. Use them on construction sites for building, home renovation and more, and make your clean-up and waste management easy.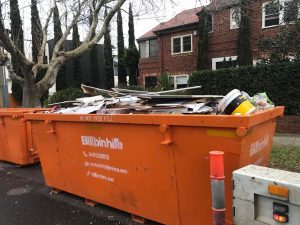 What Can't I Put In A Skip Bin?
While we deal with almost all kinds of waste, there are some things that can't be disposed of in our bins, due to safety and legal reasons. If you have any of these items, talk to your local council and ask them about the proper disposal channels for your location. These items include:
Fridges and Freezers
Televisions and other Screens
Bio-waste (body fluids, animal waste etc.)
Petrol, gas and other fluids
Asbestos
Batteries
Paints and resins
All the waste we collect in Werribee is taken to our collection facility, where it is processed and sorted.
For us, waste management means reducing the amount of waste created to as little as possible. We aim to recycle as much of what we take as possible, including waste such as plastic, metals and concrete. The more we recycle, the less goes into landfill, and the better off the environment is for it.
Bin Placement Permits In Werribee
If you're planning on using your skip bin on public land, such as a road, footpath or nature strip, most councils in Victoria require you get a permit for your bin. If this sounds like something you'll need, talk to our team today and we'll organise a permit for you with your hire. Simply let us know where you'll be using your bin, and we'll make your hire easy.
Next time you need a skip bin for a project, call the experts at Bill Bin Hire
If you're looking to hire skip bins Werribee, call the team at Bill Bin Hire today. We can help you find the perfect bin for your next renovation, construction or clean-up project, and help you clear waste fast. We also provide service in Essendon, Keilor, Yarraville, Newport and many other western suburbs within Melbourne. Book a bin using our Booking System or send us an email with your details and we'll get back to you ASAP.