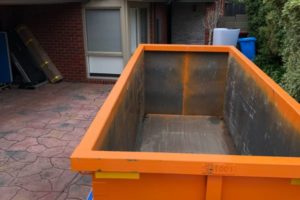 Get a skip bin hire Keilor for your next project and make clean up easy! Whether you're renovating, building or doing some serious spring cleaning, call Bill Bin Hire and get a skip bin that's perfect for your needs. With sizes from 2m3 to 12m3, we can cater for almost any project, delivering your skip bin when you need it and cleaning up when you're finished with it. We strive to provide a fantastic service with competitive pricing, making us the number one choice for skip bin hire Keilor. Book now to hire today!
Do skip bin hire the right way with Bill. Choose from our range of bins online and find the one that suits your needs. From here we'll deliver it right to you for you to use. Our skip bins hold almost all kinds of waste, including green waste, mixed heavy waste, dirt and clean fill. Our standard hire lasts three days, after which our bin hire specialists will be right over to pick up the bin and take care of your waste at our collection facility. We provide service in Footscray, Laverton, Newport and many other western suburbs within Melbourne. If you need to extend the length of your hire, let us know when you hire or call us for an extension.
Environment Friendly Bin Hire
All waste that we collect is processed and sorted at our collection facility. We make it our priority to take care of the environment, aiming to recycle as much of what we collect as possible. We recycle or reuse most waste products, including metals, plastics, concrete, wood and more.
Residential and Commercial Hire
Our skip bin hire Keilor service is ready to take on any challenge. Whether you've got a smaller residential property that you're renovating or cleaning out, or a large commercial project to take care of, our bins can handle it. All our bins go through rigorous testing to ensure they're up to any task, and checked defects and breaks to ensure safety.
Skip Bin Hire Placement Permits
If you're planning on placing your skip bin on public property, such as a road, footpath or nature strip in Keilor, you'll almost certainly need a permit. When you hire a skip bin, remember to check with your local council if you're looking to get the permit yourself. Alternatively, talk to our friendly team when you hire and we'll organise it for you as part of our service. Simply let us know where you'll be using the bin.
What Can't I Put In A Skip Bin?
While you'd think a skip bin can hold everything and anything, there are several items that can't be put in skip bins, either for legal reasons or because they're difficult to process. This includes hazardous waste such as paints, solvents, batteries, asbestos, petrol and diesel and bio-waste, as well as large waste such as televisions, fridges and freezers. If you've got something to dispose of, and you're not sure if you can put it in our skip bins, give our team a call, or ask your local council. Your council can also advise you on the proper disposal channels for hazardous waste.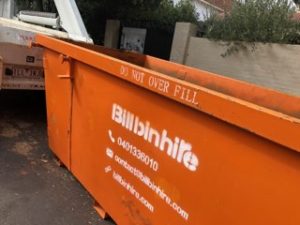 Best Skip Bin Hire Keilor
At Bill Skip Bin Hire Keilor we pride ourselves on our fantastic service and competitive prices. If you need to hire a bin today, give our team a call and we'll be able to help you find the perfect size bin for your needs. Book a bin using our Booking System, or send us an email and we'll get right back to you.