Are you doing some springtime cleaning? Too must garbage to throw away and not enough space? Look no further, our bin hire Moorabbin service can solve all your problems. Bill Bin Hire is your local go-to bin hire service, delivering bins of all sizes to your location. Our bins are available in a wide range of sizes, ranging from 2m3 to 12m3. These bins are big enough to handle materials such as big sofa sets and tough enough to handle any weight. Get bins for your next project at super affordable rates and receive the finest bin hire services in Moorabbin. Call us today!
The moment you give us a call, we'll help you select the right size of the bin you require. The bin is delivered to your location always on time. If you need our bins to clear out any old furniture pieces from your property, our bins are perfect for the job. Our bins can be hired for a maximum of three days, but if you need them for a longer period just let us know when you call us. Additionally, you can also get in touch with us for an early pickup service.
We have a special facility that allows us to reuse and recycle the waste material that you put in our bins. Taking care of our environment is a big priority for us. We believe it is our responsibility to be conscious of our environment and the impact we have on it. Hence, we recycle any material that can be recycled leaving the least amount of things to be thrown into the landfill. Metals, plastic, concrete, furniture and even old clothes, and much more can be recycled in our facilities.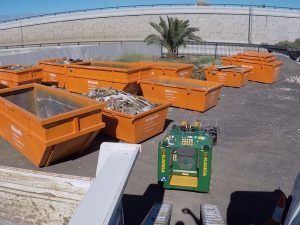 Residential, Commercial And Industrial Services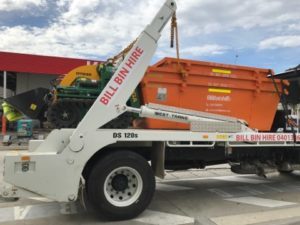 We do not limit our services only to the residential sector; our services extend to major commercial and industrial sites as well. Construction sites are also catered to and that is the reason why our bins come with brackets allowing them to be lifted by cranes on construction sites, to be moved from one place to another. In addition to that, we can also help you out with getting permits if you plan on placing the bin on public property. Roads or footpaths are considered public property and need a permit from your local council for bins to be placed there. Just let us know what your local council is, so we can get your permit for you. You won't have to wait around to get a permit anymore, just let us do the work. Our bins are equipped to be used for any sort of project, so whether it is a small home project or a commercial/industrial site, our bins can handle it.
What Can't I Put In A Skip Bin?
You can put almost anything in our bins, they are tough enough to handle most types of materials and weights. However, hazardous materials such as asbestos, biological waste, paints, resins, refrigerators, petrol, diesel and a few more, are the only set of things that should not be put in our bins. A lot of these items need to be treated in a special treatment plant before being disposed off. If you have any of these materials to be disposed of, get int ouch with your local council and get help from them for the disposal of these materials. For a full list of what all you can put in our bin hire Moorabbin, view our waste types page.
Inexpensive Bin Hire Moorabbin
Bill Bin Hire Moorabbin is known for providing the best skip hire services in Melbourne. We also provide service in Dandenong, Armadale and many other Southern Suburbs. Our services are highly efficient and affordable. Just call us and let us know what you need and our team of experts will help you out. Book a bin now using our Booking System.