If you're looking for a local bin hire service you can trust, Bill Bin Hire Sunbury has you covered. With years of experience in the bin hire industry, we can find the perfect bin for your next project so you can clean up fast. We provide services in Essendon, Keilor, Hoppers Crossing, Werribee and many other western suburbs within Melbourne. Whether you're renovating, building or simply clearing our hard rubbish, book a bin using our Booking System and get started today!
We have a wide range of bin sizes to suit all purposes, starting at 2m3, and come with a standard hire period of 3 days. If you're looking to hire a skip but don't know what size to get, or need to hire a bin for longer than 3 days, talk to our team today. We can help you find the perfect size bin for whatever you need. When hiring a skip bin, in most cases we recommend getting a size larger than what you think you'll need. This way you won't have to worry about running out of space and having to hire a second bin, saving you time and money.
Waste Collection And Recycling In Sunbury
Our bins can handle just about anything, from hard rubbish and furniture to the hardest of concrete and metal. As part of our service, we offer waste collection and management, taking your filled skip bin and sorting the waste at our collection facility. We strive to reduce waste, recycling and reusing as much of the waste we collect as we can. It's for this reason, and due to legal and safety requirements, that there are a number of things that can't be disposed of in our bins. These things include:
Fridges and Freezers
Televisions and other Screens
Bio-waste (body fluids, animal waste etc.)
Petrol, gas and other fluids
Asbestos
Batteries
Paints and resins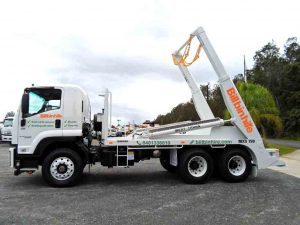 If you have any of these materials, contact your local council for information on the proper disposal channels, or talk to our team for assistance.
Permits for Skip Bin Hire Sunbury
If you need to place a skip bin on public property, such as a footpath, road or nature strip, you're going to need a permit from your local council. To organise this, you can either contact your local council yourself, or simply talk to our team when you hire. Let us know where you'll be using the bin and we'll be happy to organise as permit for you and include the cost in your hire.
Call for Skip Bin Hire Today!
If you need a skip bin for your next project, contact the team at Bill Bin Hire Sunbury today. We can help you get a bin fast, delivering when you need it and collecting it when you're finished. We aim to make skip hire as easy as possible, from start to finish.