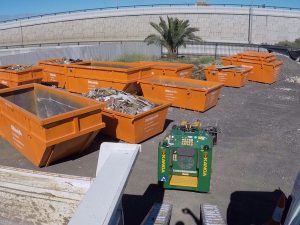 If a skip bin is what you need, talk to the team at Bill Bin Hire. We specialise in making skip hire easy, and can help you find the perfect bin for your next project. Whether you're renovating, building, or just trying to get rid of all that old furniture, Bill Skip hire Laverton can help you get the job done. Call our bin hire experts today for a free quote, and get a bin delivered to your doorstep ASAP. We're your local bin hire experts, and pride ourselves on our excellent service. Hiring a skip bin has never been easier.
If you're not sure which bin is right for the job, our team can help. In most cases, we recommend getting a bin that's a size larger than what you think you'll need. If you do end up making more waste than estimated, you'll have to order a second bin, costing you more time and money. Ordering a larger bin first fixes that easily.
Our bins come in sizes from 2m3 to 12m3, and are checked regularly for cracks and defects to ensure safety when using them. With our bin hire Laverton service, you can be sure that you're getting the best.
Our skip bins can handle almost anything and are built from reinforced steel to handle the toughest situations. Use them for renovation and building clean up, hard rubbish removal, spring cleaning, gardening and more. Whatever you need to clean up, a skip bin can help.
What Can't You Use A Skip Bin For?
While we deal with most waste, there are several items that can't be put in a bin due to legal and safety reasons. Hazardous materials are bad for landfill and dangerous for the people moving them. If you have any of these items to dispose of, call your local council for information on proper disposal channels:
Fridges and Freezers
Televisions and other Screens
Bio-waste (body fluids, animal waste etc.)
Petrol, gas and other fluids
Asbestos
Batteries
Paints and resins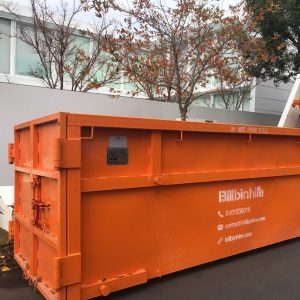 Bin Placement Permits in Laverton
For Skip Hire Laverton, if you're planning on placing your skip bin on public property you'll need a permit from your local council. Bill Bin Hire can organise it for you! Simply let us know where you're planning on using your skip bin when you hire and we'll include it in your service.
Professional Skip Hire Laverton!
For a fantastic bin hire service, look no further than Bill Bin Hire Laverton. We also provide services in Essendon, Sunshine, Hoppers Crossing and many other western suburbs within Melbourne. Talk to our team today and find the perfect bin for your next project. Book a bin using our Booking System or send us an email with the details and you can hire a skip bin today.