Let the team at Bill Bin Hire get you the perfect bin for your next project. We offer a wide range of skip bins for large and small projects. If you're in need of a skip bin for renovations, building or cleaning, we've got you covered. With competitive prices and fantastic service, we're the number one choice for bin hire Sunshine. Call us today and make your next clean up easy.
When you're hiring a skip bin, you need to know you're hiring the right one. Get one that's too big and you might end up wasting money on unneeded space. Too small and you'll have to hire a second bin, which can cost you more money and time. If you're not sure what size bin you need, talk to our team and we'll help you find the perfect size. We recommend that when you hire a bin, get a size larger than what you think you'll need. Our standard hire period is three days but can be extended upon request.


Skip Bins for Every Purpose
At Bill Bin Hire Sunshine we have a wide range of skip bins, with sizes from 2m3 to 12m3. Our bins can handle just about any kind of waste, and are fantastic for clearing concrete rubble, green waste, hard rubbish and more. Our bins go through regular testing and maintenance to ensure quality and safety, checking for cracks, breaks and defects that could cause damage. Each of our bins is fitted with hooks, ready to be moved easily and quickly. Hire a bin no matter where you are, in Sunshine or across Melbourne, and we'll deliver it when you need it.


Prohibited Items For Our Skip Bins
You can put almost anything in our skip bins, with the exception of hazardous waste and some electronic waste, including:
Fridges and freezers
Televisions and other Screens
Bio-waste (body fluids, animal waste etc.)
Petrol, gas and other fluids
Asbestos
Batteries
Paints and resins
All the waste we collect is taken to our collection facility, where it is sorted and processed. As we deal with waste management, we aim to reduce our impact on the environment as much as possible. We recycle almost all waste we take, sending it off to be reused in other projects.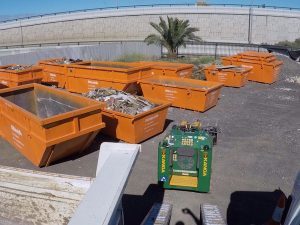 Premium Bin Hire Sunshine
If you need to hire a skip bin for your next project, give the bin experts at Bill Bin Hire Sunshine a call. We provide a fantastic bin hire service in Yarraville, Keilor, Newport, Werribee and many other western suburbs within Melbourne, all at incredibly affordable prices. Contact us today for more information on our services, and get started with a hire skip bin today. Alternatively, send us an email or fill in our contact form and we'll get back to you soon.