Why stuff up multiple bags and boxes with junk when you can get a bin large enough to fit all your junk. Our skip hire Doreen service provides bins for any project, from spring clean-ups to renovation and even construction sites. We can help you determine which size bin do you need for your project. Choose from a wide range of bin sizes we provide, you can also check out our website for the specifications of our bins. We provides services in Hawkesbury, Campbellfield, Greensborough and many other northern suburbs as well as western suburbs within Melbourne.
Construction Site? Hire A Bin!
You can hire skip bins in Doreen for any project, whether it's renovation work, gardening, or a construction site. Our bins are there to help you clear things out quickly and efficiently. At Bill Bin Hire, you get a wide range of bi sizes ranging from 2m3 to 12m3. Our bins also have features such as side brackets that make it easier to transport from one place to another. Furthermore, we take good care of our bins and ensure that they are in perfect condition and don't have the slightest of scratch on their surface. You can get a bin from us for:
Commercial or residential building projects
Construction sites
Renovations
Spring cleaning
Garage cleaning
Hard rubbish removal
Green waste removal and garden cleaning
House party clean up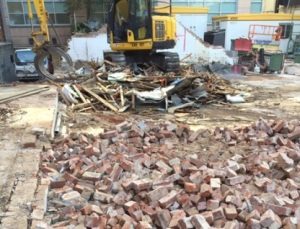 Get Your Skip Hire In Doreen
Ordering a bin might not be the easiest task since you have to be absolutely sure of what size you will be needing for your work. You need to know the exact measurement of the bin you need in cubic meters. Although, we do tell our clients to always go for a bin size that at least one size bigger. It is a safe way to ensure that you get the right bin size and save money by not having to hire another one if your calculations were. Along with this, our team also provides permits if you need a bin to be placed on public property. Just inform our team of the exact location where the bin will be placed and we'll contact your local council and get your permit. Now, you don't have to go and wait at your local council office waiting for your permit to be signed. We do the boring work for you.
Recycle, Reuse and Reduce
The 3 famous Rs are very important when it comes to our jobs. After you have thrown away your things in the bin, that is when our work starts. We pick up the bins from your locations and later sort out all recyclable and reusable material. This waste material is then taken to a special facility where it is recycled or restored. Furniture, metals, plastic, old clothes and much more are the things that get recycled. This is our way of contributing to saving the environment. Instead of throwing all of that useful material in the landfill, we try to reduce our carbon footprint by recycling them.
Call Now For Skip Hire Doreen
Get a skip hire service in Doreen for your next project. Bill Bin Hire has been in the business for several years and provides a guaranteed efficient and timely service. We also provide same-day delivery of your skip bins, just let us know how fast you want your bin and we'll be there ASAP. Book a bin using our Booking System and do bin hire the right way.